What exactly is Sinn Féin's abortion policy? TheJournal.ie
Sinn Féin's Mary Lou McDonald, Gerry Adams and Pearse Doherty

Source: Sam Boal
SINN FÉIN'S decision to abstain on Clare Daly's bill providing for abortion in cases of fatal fetal abnormalities last month has raised questions about the party's exact stance on the issue.
The reason for his abstention was that he apparently had no official position on fatal fetal anomalies – an oversight that many party members will admit was far from ideal.
Gerry Adams admitted the party should have been able to vote one way or another on the issue when he addressed TheJournal.ie last month. He told us:
I phoned one of the main advocates for these couples, especially women, and apologized for the fact that we don't have a policy and it's our fault. But we will have a policy in two or three weeks.
Source: TheJournal.ie
He was referring to the party's Ard Fheis taking place in Derry this weekend where four motions on abortion are due to be debated and voted on.
But what is Sinn Féin's current abortion policy?
Both Adam and Martin McGuiness have previously said that Sinn Féin is anti-abortion.
But her longstanding position has been to favor Case X legislation that provides for abortions in circumstances where there is a risk to the mother's life, including a risk of suicide.
It is for this reason that the party backed the controversial Protecting Life During Pregnancy Bill in 2013, which legislated the X Case decision.
Although not all of his TDs agreed. Peadar Tóibín of Meath West challenged his party and got a six-month suspension Therefore.
What are we discussing this weekend?
Sinn Féin's abortion policy may be radically overhauled by the end of this weekend.
On the issue of fatal fetal anomalies, a detailed motion has been put forward by the Ard Comhairle (national executive) of the party and it appears to have the support of the leadership. Here is what he says: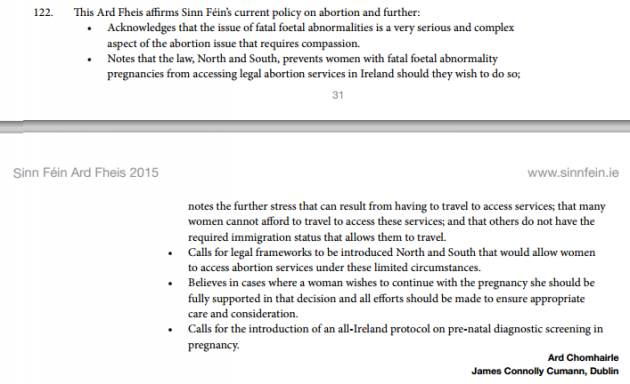 The motion calls for "legal frameworks" in the North and South to provide for abortion in circumstances where a woman is carrying a baby with a fatal fetal abnormality.
If passed, it would give Sinn Féin a stance on these particular cases and would, it seems, allow the party to back Clare Daly's bill, or some version of it, if it comes back in front of the Dail.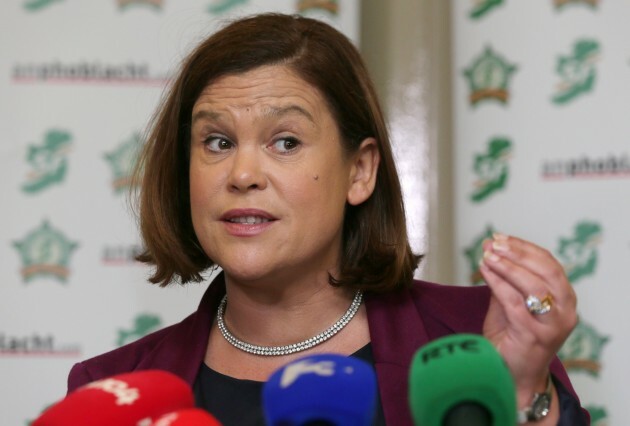 Source: Laura Hutton/Photocall Ireland
And the 8?
However, as the government argued last month, the official legal opinion is that it is impossible to provide for abortion in these circumstances without repealing the 8th Amendment to the Constitution. Article 40.3.3 enshrines the equal right to life of the mother and the unborn child.
With this in mind, a motion calling on the party to support calls to repeal the 8th Amendment may have been introduced by James Connolly Cumann in Dublin:

If passed, Sinn Féin would pledge to campaign for repeal in any future referendum. However, it does not say whether the party would commit to holding a referendum if it were in government after the next election.
Gerry Adams is officially in favor of repealing the 8th Amendment. With his support, it seems likely that this motion will pass.
Go even further
Another motion calls on Sinn Féin to recognize that "the reproductive rights of women and control over a woman's body and sexuality are entirely the business of the woman concerned":
This motion would seem to call on the party to take a decidedly pro-choice stance.
But the wording of it remains vague enough that it can be supported without necessarily leading to firm political decisions, i.e. that Sinn Féin would legislate to provide for abortions in cases of rape or incest .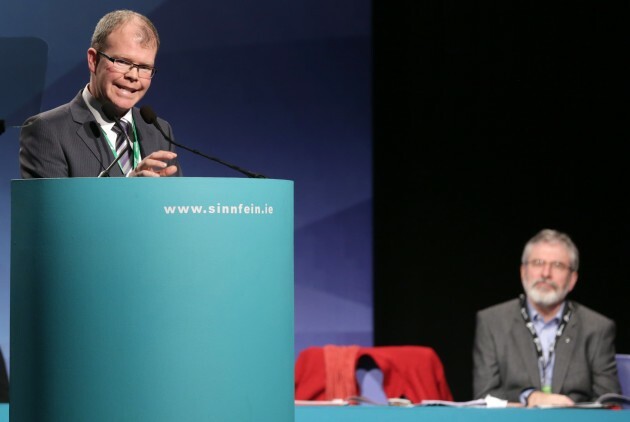 Source: Laura Hutton/Photocall Ireland
The pro-life movement
Then on the other side of the debate, a resolutely pro-life motion is also before the Ard Fheis this weekend:

If this motion passes, calling for all children diagnosed with "fatal illnesses or disabilities" to be protected by the state, it would place the party firmly in the pro-life category.
Not a simple problem
Of course many believe abortion is not a black or white issue and when it comes to Sinn Féin it certainly is. There are many different viewpoints in a party famous for taking a very collective stance on politics.
This week we spoke to Sinn Féin MEP Matt Carthy about the whole area of ​​abortion and his response was refreshingly honest:
Source: Video TheJournal.fr/Youtube
Party sources said these different views will be expressed in the Ard Fheis where dissent from the leadership position is not common.
Deputy Chief Mary Lou McDonald said she would support the motion on fatal fetal anomalies, saying yesterday she was 'looking forward' to seeing the area addressed.
But on the other side of the debate, Tóibín, who was twice suspended from the party due to his strong pro-life stance, said he would not support the measure.
At last year's Ard Fheis, he attempted to make the issue of abortion a matter of conscience, that is, to allow TDs to vote freely on these issues. But the motion was defeated with an adviser calling him "fundamentally dishonest".
McDonald said at the time that while debate was encouraged, the party ultimately had to take policy positions.
One thing seems certain, Sinn Féin will have new policy positions on abortion after this weekend and each of its elected officials will be bound by them.
TheJournal.ie will bring you comprehensive coverage of Sinn Féin Ard Fheis in Derry this weekend. To follow @orlaryan and @TJ_Politics for updates.