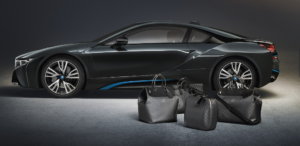 Upcoming co-branding between BMW and Louis Vuitton
By Lakshay Kumar Sharma | On Thursday, August 18, 2022, | 11:52 PM IST
Photo credit: LVMH
Louis Vuitton, a pioneer in the art of travel, has teamed up with BMW I to create a bespoke carbon fiber luggage set for the new BMW i8.
German car brand BMW has teamed up with Louis Vuitton to create a great travel companion for the BMW i8 hybrid car. The reveal of this sports car took place at the Frankfurt Motor Show last year, which was the first hybrid presented by BMW. A car that unites the advantages of visionary design and intelligent lightweight engineering.
When two brands work together, nothing is impossible!
For a successful business, co-branding can be an effective marketing strategy. This attracts a growing number of people, raising awareness of both brands and increasing sales. As we all know, BMW and Louis Vuitton are the richest brands for aesthetics who love both brands. If we combine them together, it creates a larger audience.
Even a successful partnership could be forged between truly different brands. Take a look at BMW and Louis Vuitton. They are both high-end luxury and qualitative brands. In their partnership, Louis Vuitton has designed an extreme masterpiece of a four-piece luggage set for the BMW i8. The design of the cases and bags matches the quality and aesthetic appearance and fits perfectly. This is how brands set an example that different brands or types of businesses can work together. To express great values ​​even if they are only style and quality.
The luggage is suitable for the BMW i8.
The exclusive luggage or bags were created by Louis Vuitton to be installed in the BMW i8. The "Weekender GM i8", with hand and shoulder carry straps, is custom designed to fit in the trunk. While the "Garment Bag i8" is perfectly suited to the parcel shelf of the BMW i8. The robust "Business Case i8" with hard shell, also ideal for transporting laptops, hugs the shape of the rear seats, while the small "Weekender PM i8" is designed to rest on its surface.