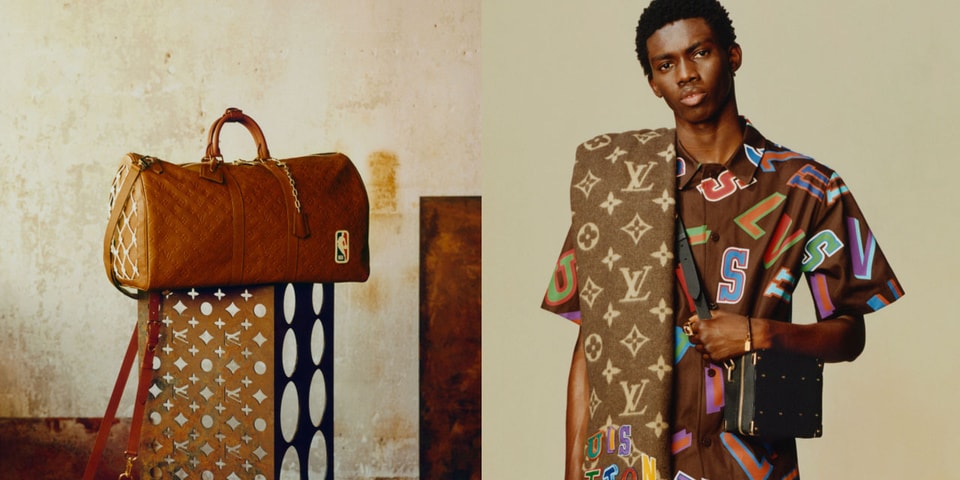 The Louis Vuitton x NBA II capsule collection has arrived
Louis Vuitton first announced a three-year creative partnership with the National Basketball Association (NBA) in January 2020, and since then the duo have produced a bespoke Trophy Travel Case, a double-door wardrobe trunk stamped with a double iconography and a first capsule collection composed of limited edition clothing, leather goods, accessories and shoes, each of them existing at the intersection of French craftsmanship and American sport. Today, the French fashion house announced the next installment of this genre-crossing partnership: the Louis Vuitton x NBA Capsule Collection II.
With lead designer Virgil Abloh's forward-thinking design codes at its heart, the basketball-backed Pre-Fall 2021 range expands the scale of the ongoing partnership with an exploration of '90s court mania through the Maison's haute couture objective. In line with the initial LV x NBA capsule, the second range imitates the wardrobe of a professional basketball player in three clothing modes: travel, match and press conference.
Travel uses relaxed-fit costume components, including a floral-embellished jacket and pants, and a logo-embellished hoodie and shorts, among other iterations. Highlights from the game line include casual shirts decorated with multicolored lettering that spell out the fashion brand's name, referencing a different NBA team's font for each letter, and shorts emblazoned with the varsity logo of the brand. In the press conference section, perfectly tailored suits and overcoats offer a professional aesthetic, while a graphic embossed leather jacket offers a casual yet sophisticated style.
As for accessories, an updated line of leather bags takes a fresh look at the basketball hoop details that appeared in the first capsule, with new ball pockets and ball holders. Additionally, a black monogram-print leather Keepall enters the arena alongside embossed logo slides, sleek loafers, and monogram ankle boots, among several other contemporary designs. Oversized chain necklaces and a square ring in front of the LV x NBA logo – a reference to the league championship ring – complete the new jewelry.
Abloh worked in tandem with designer Don Crawley to create select pieces including a signature bomber jacket, iconic shorts, an NBA embossed Keepall bag, as well as the line's logo-centric and hoop-inspired accessories.
The Louis Vuitton x NBA Capsule Collection II will be available in stores worldwide starting Friday, May 28.
In other NBA news, Wilt Chamberlain's Warriors jersey is expected to sell on the memorabilia stock market for US$1.2 million.