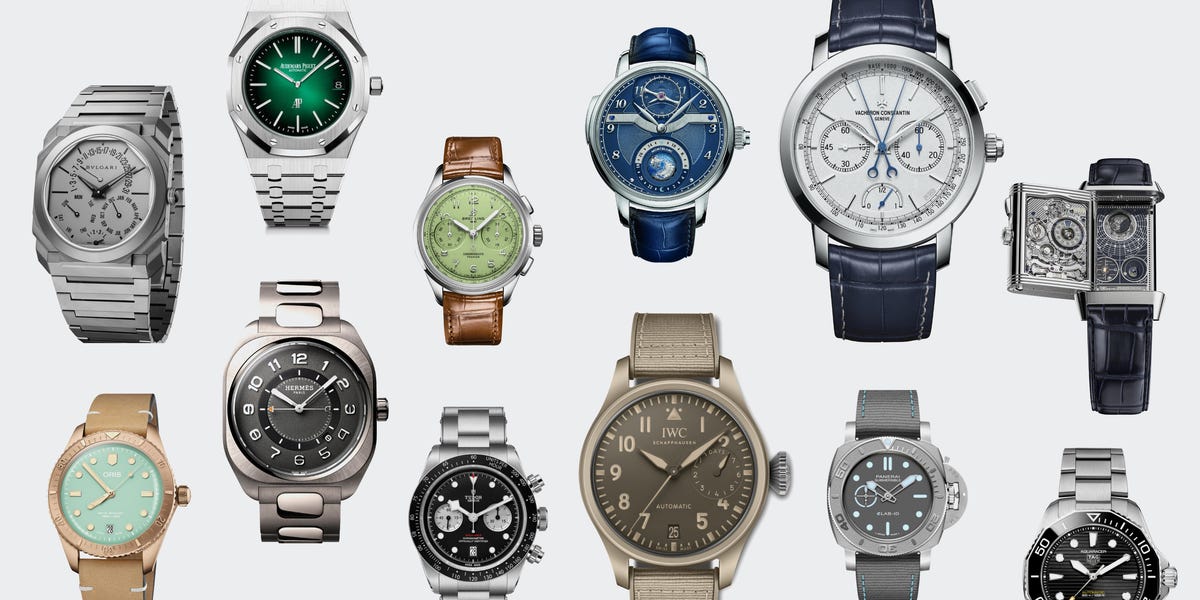 The Best New Watches of 2021
2021 watch releases started off strong and have only heated up. There's excitement as the world looks toward moving beyond COVID, and the watch space feels optimistic with a mix of vintage reissues alongside new and interesting trends.
The ripple effects of the COVID-19 pandemic were, however, strong and wide-ranging. First, Watches & Wonders Geneva (previously SIHH) was canceled as an in-person event and moved online. Shortly afterward, Baselworld was also canceled and moved online. However, following Rolex, Tudor, Patek Philippe, Chopard and Chanel's announcement that they were leaving in favor of joining W&W in Geneva, Baselworld ultimately collapsed. Suddenly, the century-old trade show was no more (though a future trade show in Basel, called HourVerse, was announced), and W&W became the world's horological lodestone, both for Richemont-owned brands and others.
None of this is particularly important for the consumer, of course, and matters more to members of the press and retailers. A race to catch up with e-commerce and an interruption to the regular product cycle probably have more of an impact upon the watch-buying public. However, these developments in the trade show world brought us to this spring: in April, the great majority of the famed, old Swiss watchmakers released their flagship products for 2021 — all at once. So for the first time ever, you got your new IWCs and JLCs dropping alongside your new Rollies and Pateks. Kind of an interesting moment in watches.
This makes for quite a lot of watches to talk about, and there's even more newness that's been hitting the shelves outside of the new trade shows. Thus, what we aim to do here is give you something of an overview of our favorite hits of 2021. Hopefully you'll find something you like, and maybe even something to gift yourself (or someone else!) to cap off a year of quarantine, just in time for the world to begin reopening.
Editor's Note: These watches are organized by alphabetical order and not according to any sort of superlatives — we love 'em all. We'll update this page throughout the year, so be sure to check back often.
A. Lange & Söhne Lange 1 Perpetual Calendar
Believe it or not, what you're looking at is the first Lange 1 perpetual calendar…full stop. Like, without a chronograph or a tourbillon or a whiriygig or a whosamawhatsit. Ain't she purdy? It comes in two versions: white gold (limited to 150 pieces) and pink gold (unlimited), and both cost a smidge over $100k. At 41.9mm, this is no small watch, but considering the amount of information displayed, it's damn remarkable (time, digital jumping date, day, month, moon phase, layered leap year and day/night indicator). This is the type of watchmaking Lange is already known for, but to integrate it unburdened by another complication into the Lange 1 platform has been a long time coming.
Notable Features: Perpetual calendar and day/night indicator; two metal choices
Winding: Automatic
Price: $104,500 (pink gold); $116,000 (white gold LE)
LEARN MORE
Audemars Piguet Royal Oak Jumbo Extra Thin
Though it's known for the irony of its price considering its fame as a steel (rather than precious metal) watch, this time AP's flagship product has been given a platinum treatment. The latest Audemars Piguet Royal Oak model matches a precious metal case to a green sunburst dial rather than the familiar, waffle-like "Grande Tapisserie" texture of the classic model. At 39mm wide, it doesn't sound very "Jumbo" to modern ears, but a thickness of only 8.1mm makes the "Extra Thin" part of the name perfectly fitting.
Notable Features: Platinum case; green sunburst dial; integrated bracelet; in-house movement
Winding: Automatic
Price: $105,400
LEARN MORE
Arnold & Son Luna Magna
Watches often relegate the moon phase display to a small subdial. Swiss watchmaker Arnold & Son, on the other hand, have previously been known for (among other things) a striking and prominent execution of the moon phase occupying half the dial. Now a new model has a different take on the complication. Rather than a subdial, at 6 o'clock is a half-aventurine glass, half-marble orb. It turns vertically to represent the moon's phases in a very visual way, but it's hard to glean any precise information from it. Around on the case back side, however, is not only a striking view of the movement (and the reverse side of the sphere), but there's also a dial more specifically indicating the current moon phase.
Notable Features: Three-dimensional marble-and-aventurine moon phase; 44mm red gold case; aventurine dial
Winding: Manual
Price: $50,500
LEARN MORE
Baltic Aquascaphe Dual-Crown
What if you want the rugged, handsome simplicity that characterizes dive watches — but in a form that stands out from the gazillions of watches that more or less look like iterations of a single design? The super compressor offers just that: an alternative take on the dive watch. Now, one of our favorite French microbrands has just come out with one of the best looking examples in recent memory. Baltic's new watch, the Aquascaphe Dual Crown, has a fresh design that's underpinned by the classic features of a super compressor. And a highly accessible price — starting around $775 retail — makes it look even better.
Notable Features: "Super compressor" case; multiple dials; great pricing
Winding: Automatic
Price: ~$775
SHOP NOW
Breitling Premier Heritage B09 Chronograph 40
Breitling released a new Premier Heritage collection featuring several different chronograph watches (each in a couple versions), all with a captivating 1940s aesthetic based on vintage examples. We love the complicated chronos in the collection with fancy complications such as split seconds and annual calendars, but the model known as the B09 Chronograph 40 has an appeal all its own. While it "only" features a chronograph and is offered in steel to keep it "relatively" affordable, it's the steel version's dial that grabs your attention. It's in a shade of green the company calls "pistachio," and it's fair to say it looks pretty unique and unlike any watch from the 1940s — or from today, for that matter.
Notable Features: "Pistachio" green dial; in-house movement; 40mm case
Winding: Manual
Price: $8,400
LEARN MORE
Bulgari Octo Perpetual Calendar
Bulgari has already set multiple records for the thinnest watches in various categories. Their latest is a perpetual calendar housed in the brand's distinctive Octo case, which was famously designed by Gerald Genta. Despite its mechanically accounting for every irregularity of the Gregorian calendar — including the different days in the months and even leap years — Bulgari managed to fit all the complicated clockwork required into a 5.8mm thick case in titanium or platinum, with movement only 2.75mm thick! The dial's layout and retrograde displays seem to draw on the aesthetics of Genta's retrograde watches, and the aggregate effect of all this masterful design and technical achievement is captivating.
Notable Features: Perpetual calendar; retrograde displays; 5.8mm thick case; titanium & platinum versions
Winding: Manual
Price: TBD
LEARN MORE
Cartier Ballon Bleu 40mm
If there's a sweet spot for watch sizes, 40mm is probably it for a lot of people. Previously only available in 42mm or 36mm and smaller, a new version of the well-known Cartier Ballon Bleu slides right into that glaringly open space and will make its distinctive design instantly more wearable for a wider audience. It's essentially the same highly original, elegant design with Cartier's seal of prestige, and (as in other core collections) it's powered by the brand's in-house 1847 MC automatic workhorse movement. Available in different case materials and blue, gray or classic silver dial colors, each has (integrated) bracelet or strap options with a quick-change system.
Notable Features: 40mm diameter; in-house automatic movement; quick-change straps
Winding: Automatic
Price: $5,800+
LEARN MORE
Chopard L.U.C QF Jubilee
Chopard's L.U.C range is the best-kept secret in watchmaking. There it is, I said it, the secret's out…but it's likely to remain under-the-radar and a strong value anyway. The brand's newest watch is no exception to the understated but high-level craftsmanship, refinement and design that characterizes L.U.C. The QF in the name refers to the Fleurier Quality certification that's comparable to the more famous Geneva Seal found on some of the most prestigious watches from the likes of Vacheron Constantin and others. The L.U.C QF Jubilee has a simple sector-style dial, the in-house manually wound movement is visible through the back, and it's all housed in a 39mm steel case.
Notable Features: Fleurier Quality certification; in-house movement
Winding: Manual
Price: TBD
LEARN MORE
Czapek x Fratello Antarctique Passage de Drake
Combining history, high-end watchmaking and multiple current trends at once, this is a watch that should get any horological geek's attention: The Swiss brand Czapek & Cie. has partnered with watch enthusiast website Fratello on a limited edition version of its sporty Antarctique watch with a winning combination of its naturally compelling design and a green dial (and some other unique touches). For a little sense of personalization, buyers get to specify if they want a seconds hand in plain steel, with an orange tip or one that's fully orange. In addition to the steel bracelet, the watch comes with a proprietary rubber strap, all for a price around $24,600 including European sales tax. It's one of our favorite recent models in the popular genre of high-end steel sport watches. Czapek doesn't mass-produce zillions of watches: This limited edition will only have 50 examples, and as of now, you're gonna have to find one on the secondary market.
Notable Features: Incredible textured green dial; integrated bracelet
Winding: Automatic
Price: $24,600
LEARN MORE
Grand Seiko SBGN Series GMT
They might be ruggedly built and quartz-powered, but these new quartz watches will hardly feel like "beaters" — instead, expect a high-end wearing experience. This comes from materials like sapphire crystal and ceramic, and you can expect the same ultra-sharp, ultra-high-end finishing found on all Grand Seiko watches, from the dial to the case. But we're not only talking about a nice exterior hiding some run-of-the-mill quartz movement: the 9F is not only accurate to +/- 10 seconds per year, but designed and engineered with the same kind of Japanese fastidiousness as the brand's mechanical and Spring Drive movements — that wobble of the seconds hand found on cheap quartz watches is here replaced with a solid, confident jump.
Notable Features: Hyper accurate 9F movements; ceramic bezels
Winding: Quartz
Price: $4,550-$5,450
LEARN MORE
H. Moser & Cie. Pioneer Centre Seconds Mega Cool
H. Moser & Cie. is known for several things: its exquisite movements, its eye-catching dials and its occasionally cheeky attitude. The brand's new "Mega Cool" watch has all of that. With a turquoise dial in the brand's signature sunbrushed fumé (smoked) style, it joins the Pioneer Centre Seconds collection, which is already full of colorful watches. The cheekiness comes in with the name and what at first appears to be no branding on the dial — in fact, the logo is rendered in a transparent lacquer at 12 o'clock. Though elegant in style, the Pioneer collection has a sporty case design, Super-LumiNova lume and offers 120m of water resistance — and this is true even of the new tourbillon-equipped version..
Notable Features: "Blue Lagoon" fumé dial; in-house automatic movement, 120m water resistance
Winding: Automatic
Price: $15,300
LEARN MORE
Hamilton Khaki Field Mechanical Bronze
It's tough to argue with one of the most affordable, perfectly sized mechanical field watches on the market. But what if it were…bronze?! Outfitted with Hamilton's H-50 hand-wound movement and given the full nautical treatment, the new Khaki Field Mechanical Bronze takes everybody's favorite soldier's watch and ups the ante. It still measures a perfect 38mm in diameter and ships on a brown leather NATO strap, but now, it'll develop a unique patina over time for a truly one-of-a-kind feel.
Notable Features: Bronze case; hand-wound movement
Winding: Hand-wound
Price: $825
LEARN MORE
Hermès H08
Though better known for its leather products, Hermès every so often comes out with a aesthetically striking and technically impressive watch — and many watch snobs are reminded that the French brand is indeed a bonafide watchmaker on par with many of Switzerland's finest. The newest is simply called the H08, and it features a unique look with a cushion-like case, round dial and a distinctive style of Arabic numerals. It's powered by the brand's own in-house movement and comes in cases made of titanium or a black, carbon-based material called graphene.
Notable Features: In-house movement; titanium and graphene case options
Winding: Automatic
Price: $5,500-$8,900
LEARN MORE
Hublot Big Bang Integral Tourbillon Full Sapphire
While a number of brands have experimented with sapphire crystal as a case material, Hublot has been at the forefront. The new Big Bang Integral takes the concept to its logical inclusion, with just about every piece rendered in sapphire. This includes everything from the bracelet to movement bridges — which, of course, are clearly visible through the sapphire case and dial. Certain elements such as movement parts and screws are still in metal, but the overall impact is impressive — in addition to being hard, lightweight and extremely scratch-resistant.
Notable Features: Clear sapphire crystal case, bracelet and other components; tourbillon
Winding: Automatic
Price: $422,000
LEARN MORE
IWC Big Pilot's Watch Edition "Mojave Desert"
The sand-colored"Mojave" ceramic treatment remains one of IWC's coolest. The previous version was a chronograph and this year also sees a Mojave perpetual calendar, but the time-only simplicity of the Big Pilot's Watch allows the focus to remain on the materials, textures and colors. The entire watch, from the case to the dial to the hands, is matte-finished, which should make for strong legibility. Further making it easy to read (if less easy to wear) is its 46mm diameter — which only whets our appetites for the possibility of something like, say, a smaller Spitfire Automatic with the same treatment somewhere down the line.
Notable Features: Ceramic case; power reserve indicator
Winding: Automatic
Price: $14,800
LEARN MORE
Jaeger-LeCoultre Reverso Hybris Mechanica Calibre 185 Quadriptyque
Forget about the absurdly long name for a second. Just think about the following: this is the most complicated Reverso ever. It's the first wristwatch ever with four faces. (That's, like, three more faces than normal.) It took six years to develop. It features three displays of lunar information, including the synodic cycle, the draconic cycle and the anomalistic cycle. (I don't know what any of those are, but I think the middle one tells you how many dragons emerge from hibernation per month.) It's got 11 complications, including a perpetual calendar and a minute repeater. It required 12 patents to be filed. It's made of white gold and limited to 10 pieces. It costs 1.35 million EUR. It's freakin' DOPE.
Notable Features: First wristwatch with four dials; 11 complications; 12 patents
Winding: Manual
Price: ~$1.6M
LEARN MORE
Montblanc Star Legacy Metamorphosis LE 8
Montblanc's crazy-complicated watches like the Star Legacy Metamorphosis are meant as a showcase and reminder of the brand's impressive capabilities. With the press of a button and slide of a lever, the watch transforms between two different faces with a mechanical animation: The subdial at 6 o'clock displays world time with a rotating globe motif, but then it splits in half to open like shutters, revealing a three-dimensional moon in an aventurine sky. The balance wheel is visible at 12 o'clock all times, but when the shutters are opened, the entire tourbillon structure is revealed. The whole watch comprises over 718 tiny components, all handcrafted by Montblanc in its specialized facilities.
Notable Features: Transforming dial; tourbillon; world time; moon phases
Winding: Manual
Price: $253,500
LEARN MORE
Nomos Metro Update
"Update" isn't editorial — it's actually the name of a watch in the Nomos Metro collection. The name actually refers to the date function, which makes its in-house DUW 6101 automatic movement notable: The date is displayed by apertures at the edge of the dial, despite the movement's smaller diameter. Further, unlike with many modern movements, the date can be set forward and back. These sound like subtle nuances, but it's this kind of attention to detail that characterizes thoughtful watchmaking. Though the movement and its features have been available since 2018, this is the first watch in the Metro collection to feature them.
Notable Features: In-house movement; date display setting forward and back; glowing date display
Winding: Automatic
Price: $4,660
LEARN MORE
Omega Seamaster 300 Master Chronometer
To be sure, this isn't the first modern throwback to the 1950s/1960s-era Seamaster 300 that Omega has created. However, this version is in some ways even more faithful to the original design. Whereas the last iteration of the 300 included a modern ceramic bezel, this new one ditches it in favor of more classic aluminum. It revamps the lollipop second hand, ditches the "Master Co-Axial Chronometer" text on the dial, uses vintage Arabic numerals with "open" 6s and 9s, uses vintage-colored lume —and, most interestingly, uses a sandwich dial: a lower plate is filled with blue-glowing Super-LumiNova, above which sits the main dial with cutouts for the indices. The result, taken as a whole, is pretty spectacular.
Notable Features: Vintage-inspired design; Master Chronometer movement
Winding: Automatic
Price: $6,150+
SHOP NOW
Omega Speedmaster Professional Co-Axial Master Chronometer
At some point, even stalwarts like the Speedy need upgrades, especially when advancements in watchmaking technology promise better performance, higher accuracy and increased comfort. With that in mind, meet the new Speedmaster Moonwatch Professional Co-Axial Master Chronometer. While many incremental updates to classic models elicit yawns from die-hard fans, such is not the case with the Speedy Pro. Powered by the Master Chronometer–certified calibre 3861 movement, it's a more accurate, more robust, longer-running watch than its predecessor. It's also equipped with a redesigned dial and a new bracelet, each of which alone would be enough to excite longtime Speedy fans.
Notable Features: Co-axial Master Chronometer movement; new bracelet and dial
Winding: Manual
Price: $5,950-$7,150
SHOP NOW
Oris Divers Sixty-Five "Cotton Candy" 38mm
A new dial color: big whoop, right? Well, nobody will be yawning at Oris's unique and striking new "Cotton Candy" colorway for its Divers Sixty-Five collection. Paired to bronze, retro-styled dive watch cases, the pale tones of blue, green and pink are unexpected but feel fresh and positive. They also feel unisex, with potentially feminine colors and 38mm sizes — but these watches are all about how you wear them. They come on bronze bracelets or brown leather straps and are powered by automatic movements.
Notable Features: Bronze case; unique colors
Winding: Automatic
Price: ~$2,335-$2,650
LEARN MORE
Panerai Submersible e-LAB ID
Panerai's ties to the ocean — they're a famed dive watch manufacturer, after all — mean that they take more than just a passing notice of the environment and the need to care for it. Their new Submersible e-LAB ID aims to take the concept of a "recycled" watch to its logical extreme: roughly 98.6% of its weight comes from "materials integrating a high rate of recycled elements." Panerai even put together a sort of consortium of companies to produce many of the watch's components, which includes titanium, luminous material and strap manufacturers. It doesn't hurt that the watch itself is pretty darn cool-looking: manufactured from recycled EcoTitanium, it's powered by an automatic movement housed in a 44mm case.
Notable Features: Recycled components; open-source manufacturing
Winding: Automatic
Price: ~$71,235
LEARN MORE
Patek Philippe 5236P Perpetual Calendar
The brand-new 5236P-001 is a perpetual calendar with a unique display: it shows the day, date and month in a single, centered window below 12 o'clock via a group of four numerical discs. This highly elegant, in-line display appeared on one of the company's pocket watches in the 1970s but has never graced a Patek wristwatch before, chiefly because of space constraints in a wristwatch movement. (A perpetual calendar mechanically accounts for the different number of days in each month — as well as leap years and the phase of the moon.)
Notable Features: Perpetual calendar; in-line display
Winding: Automatic
Price: $130,110
LEARN MORE
Patek Philippe Nautilus 5711/1A-014
For the Patek Philippe Nautilus's swan song, it got a green dial. Yes, the iconic steel watch often referred to simply as "the 5711" is being retired, but not before it gets a "victory lap," as the company's president Thierry Stern said. It's the last of the classic design in steel that's come to be a prestige symbol, and the dial now has a pale green hue rather than the previous version's blue. This reference will have a particular significance to collectors and the color will make it immediately identifiable. It's sure to be near-impossible to get your hands on, and definitely not at retail pricing.
Notable Features: Green dial; steel case; the last iteration of an iconic collection
Winding: Automatic
Price: $34,890
LEARN MORE
Rolex Explorer 36mm
The new references 124270 (steel) and 124273 (two-tone steel and gold) have been downsized to 36mm — the size of the original Explorer from the 1950s, and most subsequent Explorer I models until 2010 or so. This is the first time that a two-tone model has been made available, though both references are otherwise the same: powered by the automatic cal. 3230, they ship on matching Oyster bracelets and feature black lacquer dials with Chromalight lume for low-light legibility. Other perks include a 70-hour power reserve and 100m of water resistance. (Maybe don't take the two-tone Rolesor version up Mt. Everest, though — you might get some weird looks up there.)
Notable Features: 36mm case; two-tone and steel versions; new movement
Winding: Automatic
Price: $6,450-$10,800
LEARN MORE
Seiko 5 Sports SRPG Field Watch
The ultra affordable Seiko 5 automatic field watch you most likely know is the SNK. This isn't quite the SNK, but it's everything else you've been longing for. The modern Seiko 5 Sports line shows that the brand hasn't left fans of its affordable beater watches behind, and the new field watch is right at the entry point for Seiko automatic watches. It's 39.4mm wide and features the same 4R36 movement that powers the Seiko 5 Sports dive-style watches, and it's going to make a lot of first-time watch buyers and established collectors alike quite happy.
Notable Features: 39.4mm steel case; automatic movement; great price
Winding: Automatic
Price: $275-$315
LEARN MORE
TAG Heuer Aquaracer 300
The latest generation of TAG Heuer's Aquaracer dive watch introduces a range of tweaks while remaining recognizable. The changes incorporate multiple subtle improvements to ergonomics and user experience, and these notably include an overall thinner and lighter case. The most visually obvious changes are the bezel's now grippier texture — which is in line with that of typical modern dive watches — and the 6 o'clock date display topped with a circular magnifier ("cyclops") lens. The seven new versions include 43mm and 36mm variants, and a couple of notable models are in titanium" one with a green dial/bezel and one with a retro/military dial evoking that of the Aquaracer from 1978, the ref. 844.
Notable Features: Thinner case; titanium editions
Winding: Automatic
Price: $2,800-$4,350
LEARN MORE
Timex X Todd Snyder Q Timex
With its square indices and thin red cross-hatch pattern, this is a design that you can find on vintage Omega and Hamilton as well as on vintage Timex itself, and one that we're more than happy to see resurrected. Vintage-colored lume on the hands and indices melds right into the dial, which remains legible given the black surrounds on the hour indices and the subtle pops of color. Other than this new dial color, the Q is the same one we know and love: It features a 38mm steel case, a matching steel bracelet (here with a fold-over clasp), a day-date display powered by a quartz movement, a unidirectional bezel (here in count-up/dive configuration) and a convenient battery hatch. Best of all, it's still just $179 — the same price as that of the rest of the Q catalog models. Go ahead: make this your new summer watch and thank us later.
Notable Features: Battery hatch; vintage-styled folded metal bracelet
Winding: Quartz
Price: $179
SHOP NOW
Tissot PRX Powermatic 80
The PRX might be the hippest thing Tissot has ever done, and there's no doubt they've got a hit on their hands. A lot of brands are doing their own version of "sports-chic" integrated-bracelet watches, but Tissot was able to make the PRX about more than that with its '80s/quartz angle. This is a lot of watch for the price, and the automatic version is going to more or less check all the boxes for a lot of people. The PRX is in large part so cool because you can't really find other modern watches with a similar style. It stands apart from the many Royal Oak wannabes by leaning away from a sport-lifestyle character and instead offering more of an everyday, almost dressy appeal with just a hint of retro funk.
Notable Features: Cool dial choices; funky, '70s design; great price
Winding: Automatic
Price: $650-$675
Tudor Black Bay Ceramic
You're largely getting all the standard Black Bay goodness — a 41mm case, a domed sapphire crystal, "snowflake" hands inspired by vintage Submariners from the late 1960s, Super-LumiNova lume, and a five-year, transferable warranty with no registration or periodic maintenance checks required. But this thing is made from black ceramic, and it looks dope as hell. Also, it's METAS-certified, meaning the movement is accurate to, in this case, -2 to +4 seconds per day, and maintains an incredible high standard of precision, resistance to magnetism, waterproofness, and power reserve. All this will cost you $4,725 — a typically approachable Tudor price considering all the technology, know-how, aesthetic consideration and Rolex-inspired finesse present in the watch.
Notable Features: Black ceramic case; METAS-certified Tudor movement
Winding: Automatic
Price: $4,725
LEARN MORE
Tudor Black Bay Chrono
Tudor didn't release entirely new collections or groundbreaking new models for 2021, but it's widely agreed that the mostly aesthetic updates to existing lines look pretty great. The Black Bay Chrono now comes in very vintage-feeling "panda dial" (black subdials on white main dial) and "reverse panda" (white on black) versions. This now-popular colorway looks good on the Black Bay Chono, and it fits its character well with a more playful and casual feel compared to that of its serious older sibling, the Rolex Daytona. (Tudor is a subsidiary of Rolex.) A more substantiative change is that Tudor made the case slightly thinner — always appreciated with chronographs, which tend to be on the thick side.
Notable Features: Panda dials; thinner case
Winding: Automatic
Price: $5,225
LEARN MORE
Ulysse Nardin UFO Clock
I know what you're thinking: Today is Wednesday. Or is it? But you're also thinking that this is not a watch. And you'd be right. But contemplate with us for a moment just how darn cool this clock is: Built from 663 components and boasting an incredible one year of power reserve from six extra-large barrels, UN's UFO clock can display three time zones simultaneously. It takes inspiration — like many of Ulysse Nardin's pieces — from the ocean, and the gentle swaying of the waves. To that end, the clock's bottom is rounded and actually swings back and forth up to 60 degrees from its axis due to a tungsten mass built into the base. If it weren't limited to just 75 pieces at a price of $41,100, I'd buy two.
Notable Features: One-year power reserve; three time zones; unique balancing base
Winding: Manual
Price: $41,100
LEARN MORE
Unimatic X HODINKEE U1-GMTH
A collaboration between our friends at watch website Hodinkee and the fine folks at Unimatic, one of our favorite boutique watch brands, the H Series actually includes three watches — but the GMT definitely takes the cake: Housed in a 41.5mm case, it's only 11.8mm thick (hell yeah!) and features 22mm drilled lugs for easy strap changing. Outfitted with the Sellita SW330-2 automatic GMT movement, it's the first Unimatic to feature this travel-friendly complication. It's also water-resistant to an impressive 300m, features ample Super-LumiNova lume on the dial and ships with a black cordovan leather strap as well as a single-pass NATO. Done up in signature Hodinkee grey, the U1-HGMT is outfitted with a 24-hour, unidirectional bezel and individually adjustable grey GMT hand for easy time zone changes. (Unfortunately, it's also completely sold out.)
Notable Features: First GMT from Unimatic; affordable price
Winding: Automatic
Price: $1,395
LEARN MORE
Vacheron Constantin Traditionnelle Split-Seconds Ultra-Thin
There are chronographs, and then there are chronographs — this is the latter. The Traditionelle Split-Seconds Chronograph Ultra-Thin Collection Excellence Platine (we actually shit you not) is so refined it's almost silly, and it's probably why the maison is only making 15 of them. Crafted almost entirely from platinum — down to the threading in the leather strap — this 42.5mm beauty celebrates Vacheron's 260th anniversary and includes a split seconds mechanism, which allows the wearer to time two events simultaneously. Due to the ultra-thin design of the in-house caliber 3500, the watch is amazingly only 10.72mm thick despite automatic winding.
Notable Features: Platinum construction; split-seconds chronograph
Winding: Automatic
Price: TBD
LEARN MORE
Zenith Chronomaster Original
Modern Zenith watches have often danced around the design of the A386. This was one of the models to debut the revolutionary El Primero automatic chronograph movement and the one that has most come to signify it. Now, finally, Zenith has given fans precisely what they've wanted in a near-exact remake of that watch, from its case size and finishing to the distinctive tri-color dial design — as well as a couple of other variations that look equally as good (including a rose gold one). The best part is that, unlike past such reissues, the new models are available in steel and not as limited editions. Yes, it's yet another reissue, but a damn compelling one.
Notable Features: 38mm case; non-limited; reproduction of vintage 1969 model
Winding: Automatic
Price: $8,400+
LEARN MORE
Zenith Defy Extreme
The looks of Zenith's new, aggressively styled and sized Defy Extreme watches isn't all that's meant to be "extreme": As official timekeeper of the off-road electric racing championship Extreme E (of which Zenith is a founding partner), Zenith built the watches with solid construction in titanium and 200m of water resistance. The angular look is intended as hyper-modern but in fact includes aesthetic nods to the Defy watches Zenith produced in the 1960s. The dial is skeletonized to partially reveal the fascinating movement inside — which operates at the characteristically fast 5Hz of the brand's famous El Primero calibers — while the chronograph operates separately at 50Hz, allowing measurement down to 1/100th of a second.
Notable Features: Titanium construction; 1/100th second chronograph
Winding: Automatic
Price: $18,000
LEARN MORE