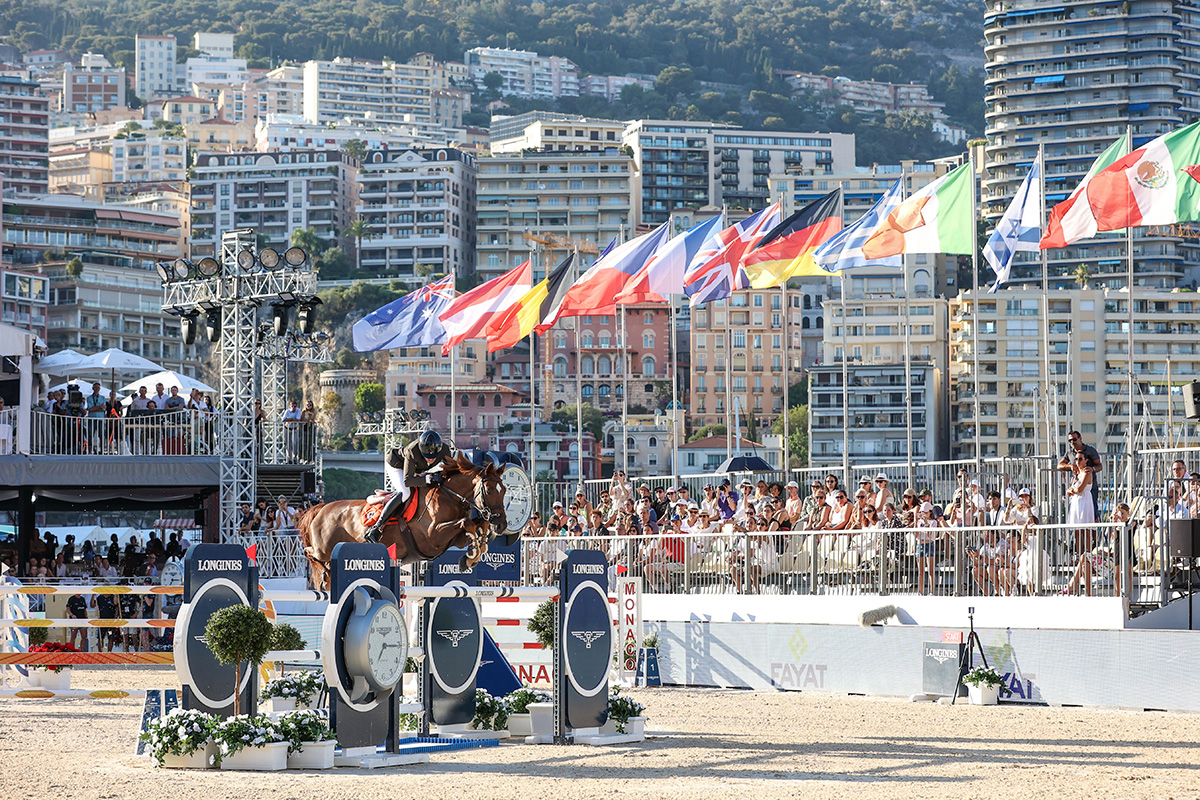 Superstar Hermes Ryan and Simon Delestre step up a gear at the Casino Monte-Carlo Trophy
It was a battle of the best this afternoon in Monaco, with Simon Delestre reigning supreme in today's CSI5* Trophée Casino de Monte-Carlo class, finishing just tenths of a second ahead of Victor Bettendorf who won the 5* speed class earlier today. .
In a siege-edge shoot-off, Simon Delestre rode his trusty 17-year-old Hermes Ryan to the top of the leaderboard, snatching victory after a thrilling 14-rider shoot-off. Bettendorf secured second place aboard his energetic Tip de la Roque while Gilles Thomas, first to start in the jump-off, and 9-year-old Jetric van Beek Z finished third.
Speaking of his special horse, Simon said: "Winning a class with Ryan always gives me a lot of emotion and we know it was almost one of the last classes he'll skip in his career and still be in good shape to win that type of class – that's really something special for me. Honestly, I risked everything today."

Looking ahead to Super Saturday, Simon said: "Dexter is also an amazing horse and he will be jumping his first 5* Grand Prix tomorrow so I will do my best but I know he will be a superstar going forward."
The biggest event of the second day of the Longines Global Champions Tour of Monaco saw the temperatures rise in perfect prelude to the confrontation on Saturday. The incredible show jumping track, sandwiched between Monaco's famous marina and the Prince's Palace, attracted a stylish crowd enjoying the Principality's art of living and world-class sport. The Monaco LGCT once again received tremendous support from HSH Prince Albert II of Monaco and Princess Caroline of Hanover and her daughter Charlotte Casiraghi who took part in these three days of events.
Fans and tourists alike enjoyed the incredible scenes as superstar horses performed just yards from the waterfront and VIPs arrived on private tenders from their superyachts to enjoy first class hospitality on the East Coast. Azure. During the three days of the event, spectators were able to appreciate the wonderful destination for high-level equestrian sport.
Uliano Vizzani created a technical and challenging track for the world's top international riders, using the full width and breadth of the arena. Although the course required a lot of concentration, reactivity and bravery, it was proof that the best athletes in the sport were present in Monaco, as 14 combinations facilitated the passage to the jump-off.
First to go, Gilles Thomas cleared the way for the others to come, he had a quick and smooth clear but didn't risk everything, letting the rest of the field continue their time of 33.62s.
Maikel van der Vleuten revved the engines of Dywis HH, coming out of the starting blocks and seizing every chance. The turn to fencing two was a brave one but the post fell halfway through which ended his chances today.
Disappointment for Robin Muhr with Baccarat Meniljean, as they flew up and down the arena, picking up 12 fouls in the test run. Faults followed, Malin Baryard-Johnsson on Harley Davidson and Denis Lynch on Rubens LS la Silla all collecting penalties.
It was a total of 9 double clear rounds as Samuel Hutton on Bonne Amie, Fernando Martinez Sommer with High Five and Jodie Hall McAteer aboard Mademoiselle-A chose to play it safe with consistent clear rounds to reclaim their share of the price.
Olivier Philippaerts on H&M Miro, Constant van Paesschen on Plato de Muze Z and Geir Gulliksen with VDL Groep Quatro all gave their all as they put the pedal to the metal in Monaco's old pit lane but couldn't keep up. preventing them from the top three today.
Simon Delestre and the iconic Hermès Ryan were quick as always and jumped cleanly to rocket into the lead in 32.64 seconds. They gave their all and even the new combination of Victor Bettendorf and Tip de la Roque couldn't keep up the pace, settling for 2nd place overall in 33.31s.
Last to go, Edwina Tops-Alexander handed victory to the flying Frenchman after pointing out 8 faults on Catenda and pushing her out of the top 10.
Tomorrow will see the Super Saturday with the GCL Monaco R2 kicking off at 5:00 p.m. local time before the Longines Global Champions Tour du Prince de Monaco Grand Prix at 8:30 p.m. Tune in to GCTV to watch all the action live!