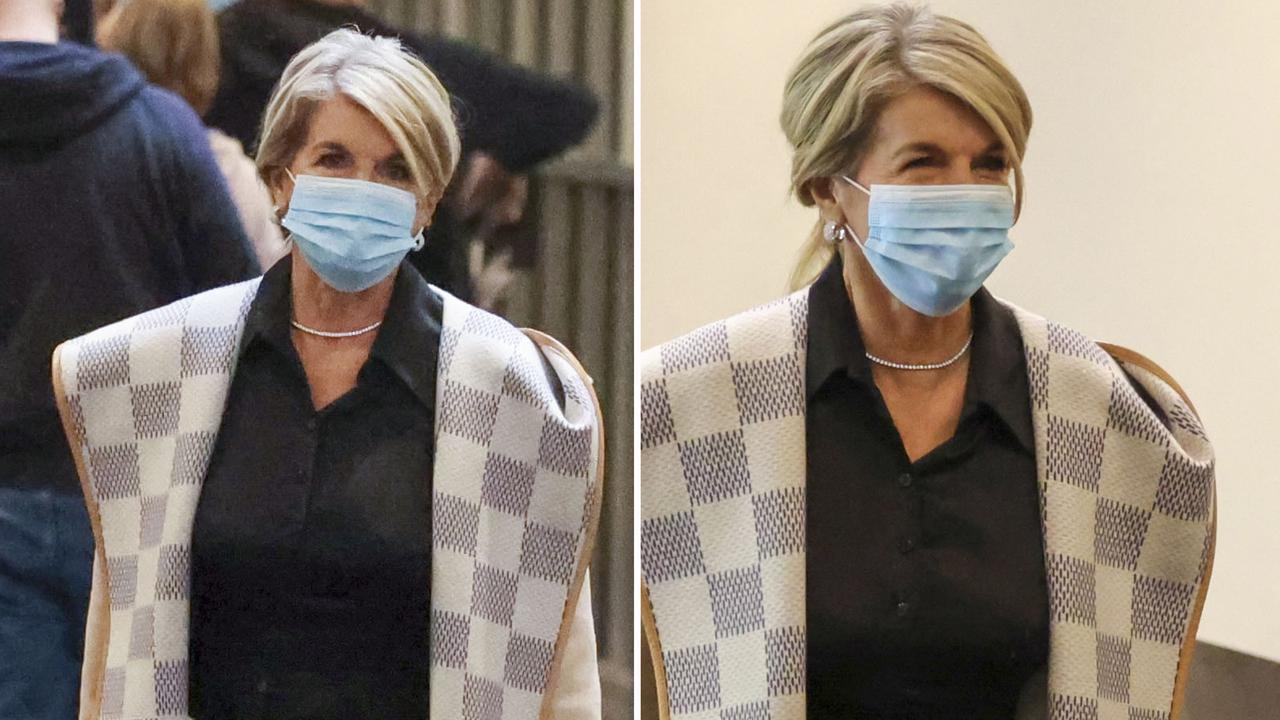 Julie Bishop Wears $8,250 Louis Vuitton Coat on Election Day
The former Liberal deputy leader is known for her high fashion looks and her travel wardrobe is clearly no exception.
Julie Bishop is known for her great sense of style – and the former deputy Liberal leader didn't disappoint when she stepped into Melbourne showcasing her best fashion style.
The 65-year-old Chancellor of the Australian National University was spotted at Melbourne's domestic airport looking as dapper as ever in an oversized $8,250 Louis Vuitton checkerboard-patterned coat from the latest ready-to-wear collection. – wearing a luxury brand.
She paired the casual yet trendy look with a black button down shirt and matching dark pants.
Ms Bishop is in the city ahead of her inclusion in Channel 9's star-studded election coverage after traveling with her partner David Panton, a prominent pharmacist and entrepreneur.
The 65-year-old former member of Curtin, Western Australia, could also be seen wheeling a silver suitcase and matching Louis Vuitton luggage.
Ms Bishop will join a panel of experts on Channel 9 to break down all the action on Saturday when the votes are tallied.
"This election is definitely not black and white – there's blue, red, green, gold, teal, yellow and more! Election Day coverage begins on @thetodayshow and the Channel 9 election panel tonight. Australia decides," Ms Bishop captioned an Instagram photo of herself and presenter Belinda Russell.
Ms Bishop's color comment referred to her and Russell's outfits.
She skipped out of her casual outfit and donned a black Emporio Armani suit, while Russell opted for a matching white sheike jacket and pants that featured star shapes as buttons.
"Elections are never black and white. Great preview from @honjuliebishop this morning on @thetodayshow," Russell captioned the same image, adding the hashtags "fangirl," "election2022," and "auspol."
Ms Bishop said it was "great" to be on the Today show with Russell and Richard Wilkinson and that she was "looking forward" to being on the Channel 9 campaign panel.
Ms Bishop became the first-ever female foreign minister in 2013 after four years in the role of shadow minister for foreign affairs and trade.
She also served as Cabinet Minister in the Howard Government as Minister for Education, Science and Training and as Minister Assistant to the Prime Minister for Women's Issues.
Known for her keen sense of fashion, Ms Bishop has formalized a partnership between the Department of Foreign Affairs and Trade and the Australian Fashion Chamber to promote and nurture Australian fashion designers and connect them with their counterparts in the world. 'foreign.
Since leaving politics in 2019, she has served on the board of professional services firm Palladium and launched her own consultancy, Julie Bishop and Partners.
Read related topics:
melbourne