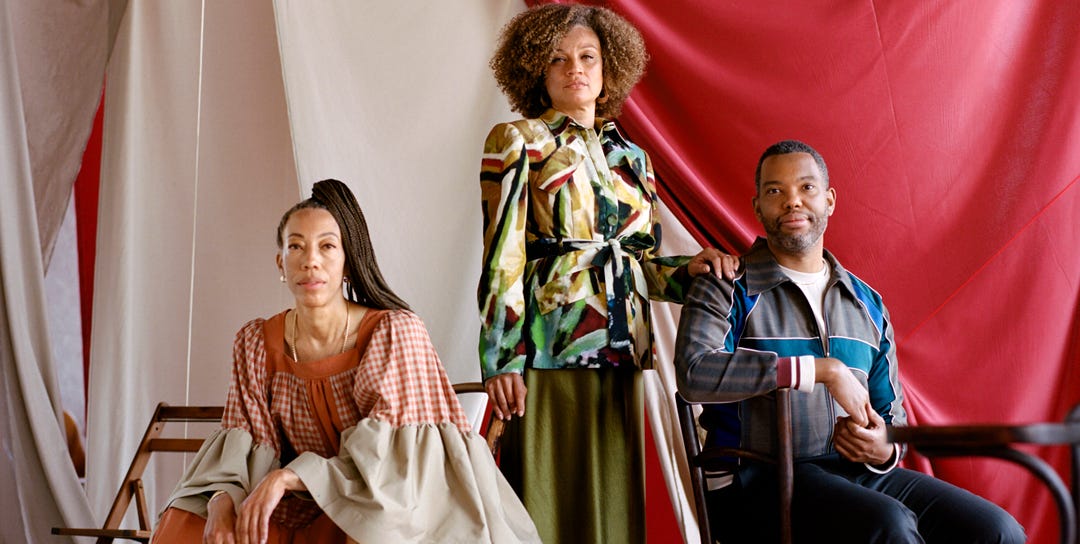 Calida Rawles, Amy Sherald, and Ta-Nehisi Coates Find Freedom in Belonging
Artists Calida Rawles and Amy Sherald and writer Ta-Nehisi Coates have been friends since the mid-'90s, when Rawles and Sherald were studio mates at Spelman College in Atlanta, and Coates was an undergrad at Howard University in Washington, D.C. But beyond their shared history, there are central notions of personal, physical, political, and creative freedom that they've each explored in their work.
Rawles is perhaps best known for her intricate, large-format paintings, which are built around images, based on her own photographs, of Black bodies submerged in rippling water. Aesthetically, the pieces reverberate with a kind of spiritual calm. But they are also loaded with political meaning, made in conscious reference, Rawles says, to the enslaved Africans who leaped from America-bound ships during the Middle Passage in fatal acts of resistance and the Jim Crow–era laws that restricted access for Black people to beaches and pools in the U.S. In September, Rawles will have her first-ever solo exhibition in New York at Lehmann Maupin, followed by the unveiling of a mural she created for the SoFi Stadium campus in Inglewood, California.
Sherald's subjects have ranged from people she encounters on the street and Instagram to First Lady Michelle Obama, who, in 2017, chose Sherald to paint her official portrait for the Smithsonian's National Portrait Gallery. The figures in her paintings, which she renders in grayscale skin tones and detailed dress against colorful, often monochromatic backgrounds, are frequently depicted gazing directly at the viewer, prying them loose from time, context, and the conventions of portraiture. Sherald recently made her West Coast solo debut with a spring show at Hauser & Wirth in Los Angeles featuring a collection of works completed during the pandemic.
Over the past decade, Coates has emerged as a crucial voice on race, racism, and the institutional and cultural forces that continue to drive disenfranchisement and inequality. His first novel, The Water Dancer, about an enslaved man in the pre–Civil War period who discovers he has mystical powers, was published in 2019—with a cover created by Rawles. Coates is in the process of adapting the book into a film, on which Rawles will serve as a consultant.
In late March, they all joined Harper's Bazaar features director Kaitlyn Greenidge for a conversation about imagination, representation, and where they've found freedom in their own lives.
KAITLYN GREENIDGE: When have you each felt the most personally or artistically free?
TA-NEHISI COATES: It's easily right now. When I got my start in journalism, there were no Black people in magazines. None. What attracted me to magazine writing was the exact same thing that attracted me to comic books and fiction, which was the ability to tell these stories in these unpredictable sorts of ways. But there were just no Black people permitted to do it. So to be in this time now, where across the board, Black artists and Black writers—to see what's going on with Amy and how folks feel about her work—that was unimaginable when I came in. Honestly, my problem now is the responsibility that comes with it, to understand that even though you may be free to do whatever the hell you want artistically, you really shouldn't. After being told no for so much of my career, I should be willing to carry the weight of saying no myself.
AMY SHERALD: For me, it was when I first started making money and I could run out of something and just buy it, and I didn't have to think about it. I took my mom to Barbados for her birthday. I felt free there because that was the first time I was somewhere where Black people were running everything around me. I think I psychologically just felt more relaxed. But I didn't realize how much of an effect it had on me until I hopped off of my plane from Barbados in Boston. It was like something shifted. I was like, "Oh, I'm back in this other land … ." But in Barbados-land, everybody's really nice, happy, and proud. And it just made me feel free.
CALIDA RAWLES: I feel most free when I've found the water and I'm swimming. I feel like I'm always being asked of something, either in my studio practice or with my family, so being in the water is almost like a moment to meditate and breathe deeply… But I feel freer now in the ways you were describing too—just being able to buy a little more of what I want or painting what I'm interested in. I'm able to have more agency over my time and my powers.
AS: I'm about to be free when I get over this student loan debt.
CR: Me too! I can't wait.
TC: You all should have dropped out like me.
AS: It's no lie. I feel like everything I know I taught myself. I don't remember anything from college except for the Narrative of the Life of Frederick Douglass. That was the one thing I took away aside from my art and art history classes—reading that for the first time.
TC: But that does raise an interesting thing. I certainly could not have imagined that I would be having this conversation, first of all, for Harper's Bazaar, but with two other HBCU alums. I laugh, but the formative experience of being at an HBCU, in that environment, was worth more than anything.
AS: I went to predominantly white schools from kindergarten through 12th grade. I didn't really have any Black friends until I was in ninth grade, so I really needed to go somewhere where I would not be the only me. I don't think I was able to language it that way at that time. But when I got to college, I felt like: "Okay. Now I'm not 'Black Amy.' Now I'm just 'Amy.'" Because growing up in Columbus [Georgia], everything, for me, ultimately felt like it came down to race.
CR: I tell that to my daughters all the time, especially the one who is about to go to college. I'm always encouraging her to go to an HBCU. When that race card is off of you and you're finding your people without that being a determining factor of your commonality … . I hope that she will get to experience that form of freedom.
TC: One of the other things about being at Howard was that when I left to write and was like, "I'm going to do this, but there are not many Black people doing it"—the cool thing about having been at an HBCU was that it never crossed my mind that it was because we couldn't. Part of the thing with race and racism is that you're constantly being gaslighted. There's a psychological aspect or weight that society puts on you, be that about your intelligence or whether you're beautiful or not—the whole physical aspect of it.
AS: I don't think I realized that until I was working at Gertrude's [restaurant] at the Baltimore Museum of Art. I was a server there. I had just moved back from Columbus after grad school. I was waiting tables. The Baltimore Museum of Art is near the campus of Johns Hopkins [University]. So this kid comes in. It was graduation or something and he was eating with his family. His father was a doctor like mine, and I gathered over the course of the evening that we grew up very similarly. And this kid went to good schools and was now moving on to do the same thing that his father did, which I obviously didn't do because I'm an artist, but that was the familial expectation. I remember going home and writing in my journal because I had this epiphany that despite the fact that my life had mirrored his life, I still suffered from this kind of self-esteem problem. I don't know what you want to call it, but I didn't feel the same way about myself as he felt about himself, entitled. At the time, in my 30s, I was just thinking about my life and starting this body of work I've become known for. Part of that was reckoning with the lack of freedom that I had to be myself growing up and what parts of my personality were strictly performative because of my environment—and trying to figure out who I really was inside of all that, because there is no freedom in that. It's hard to fully be yourself when you're constantly reactionary to outside forces.
KG: Can you talk about your understanding of the connections between freedom and representation?
AS: Well, representation isn't everything because if it were the solution to everything then there would be no more racism, because we had a Black president. I think representation is very important, but it requires much more than that to shift narratives. … In my work, I think about public identity, the ways that our bodies are consumed in the media—who people think we are in comparison to who we really are. So representation can play a humanizing role. I think representation works in a way that builds empathy. But it's not the end to all of our problems.
CR: I was looking at this statistic. According to the CDC [Centers for Disease Control and Prevention], 11- and 12-year-old Black children are something like 10 times more likely to drown [in a swimming pool] than white kids. In other age groups, they're five times more likely. I keep thinking about that and how there is a direct correlation between that and us not having access to pools and water because of all the discrimination. It makes me want even more to put us in the water so they can see us there. I want people to see that we belong there. It's like a place that was taken away from my parents because of their experience of segregation, and so I want to represent us there.
TC: Obviously, representation is not enough. You need actual structure. I mean, we're talking right after Georgia just passed this election law to really turn Black people in Georgia into second-class citizens and reduce their ability to participate in democracy. There's nothing that "representation" could really do about that. Somebody headlining a film or some Black artist—that's not going to directly solve that problem. But having said that, I do think that we underestimate just how much of the power of white supremacy is actually symbolic. It lies within art, within culture, within totems and symbols. I don't know that Barack Obama ultimately governed that differently than a white Democratic president would have—I'm talking on a policy level. But the symbol of Barack Obama, the idea of broadcasting to white America that this office, which is supposed to be the pinnacle of American political culture, is now occupied by a Black dude, with his Black wife and his Black kids—that was hugely disruptive. And I would argue that it was so powerful that it made it possible that for the first time in American history you could have a president [Trump] who had never served in the military and never served in public office. That was unprecedented. So I think there is room to say that representation is clearly not enough. And yet, for white people, it clearly really matters. You try to take down the Confederate flag, these people lose their minds. They're losing their minds over taking down a statue. Why? It must mean something. I haven't talked about this—and this is all I'm going to say about it—but I got hired to do this Superman movie, right? I knew when that happened that white folks were going to lose their minds. We're talking about a movie. We're not talking about laws. We're not talking about reparations. It's just a movie. It's one movie. There's a ton of white people who have done Superman. People cling to these symbols. It clearly matters to them. It validates something deep within them about what the order is and what the hierarchy is. And then on the other side, for us, it shows that certain things are now possible that maybe we didn't think were before.
KG: Each of you have created or are currently creating work that is going to enter these mass spaces. When you're creating something that is going to enter into the historical record in a very specific way, does that change your approach to how you start making that piece of art?
TC: My first audience was always me. If you start thinking about white people and how white people will react to things, then you end up doing white people a disservice, but also your art a disservice, because I don't think any white person of curiosity, fairness, and just mind comes to you to be flattered. I don't—I shouldn't—read The Bluest Eye [by Toni Morrison] to feel flattered as a Black man. That shouldn't be the dynamic between me and an artist coming from a different experience. So I really try to stay in my own head. I do think about Black people, because that's the culture, the experience, that I'm coming from. But I don't go too much past that.
CR: I feel the same way. I can only work through my lens and I want to stay there. I take it as, what is my superpower? All I can do is paint. So how can I take this energy of these things that I can't control and make something beautiful from it that could maybe address them and bring people in?
AS: Ain't nobody living in my head rent-free. The idea of allowing that greater audience to dictate what I do is succumbing to another person's ideal instead of my own. I think about myself first, and then I consider a greater audience, and I'm always going to be making work for people who look like me first because it has been non-existent for the most part, and people have to consider that.
---
Fashion Editor: Miguel Enamorado; Hair: Tashana Miles at The Chair Beauty Loft for The Chair Beauty; Makeup: Kuma for M.A.C Cosmetics; Manicures: Eri Handa for Chanel Le Vernis; Prop Styling: Mat Cullen.
A version of this article originally appears in the June/July 2021 issue of Harper's BAZAAR, available on newsstands today.
GET THE LATEST ISSUE OF BAZAAR